Silicon Valley DevFest
Last Friday I attended my first DevFest at Google headquarters in Mountain View. I'm so glad I was able to be there! Not only the event was absolutely free, filled with very interesting conferences and demos, and Google pampered us to the max with great facilities and delicious food, but it was quite an inspiring experience for me as a newcomer to this world of software and web application development.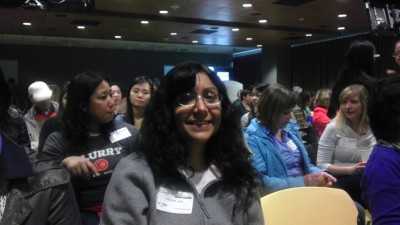 I knew women had been encouraged to attend this particular event, but I never imagined I would see so many of them. I would say at least 95% of the people in attendance (hundreds) were women. Women of all ages, sizes and backgrounds. Yes, backgrounds, because not everyone there was an experienced developer or even a CS major, which allowed me to feel more at ease and network with confidence. And that is a good thing, because I met some very interesting people, and learning about what they were doing, how they got into developing, and what their goals are for new business ventures inspired me to keep at it in my own quest to build something great and, ultimately, make a living out of this passion of mine or start my own business. I even saw a few familiar faces; women I had seen before in a previous event we both attended, which comes to show that this is, indeed, a small world, after all.
I was mostly impressed by Tomomi Imura's presentation on Mobile Approaches with HTML5 and Meggin Kearney's introduction to Chrome Apps. That is something I definitely want to explore in the near future!